Your
Reliable Repair Team

from Jacksonville, FL
Appliance Repair Jacksonville LLC is synonymous with expertise and reliability in the realm of appliance restoration. With a proven track record of excellence, our service is dedicated to reviving malfunctioning units to their optimal condition, extending their lifespan and reducing unnecessary waste. Backed by a team of skilled technicians, the brand takes pride in its efficient solutions, ensuring that households regain the convenience and functionality they deserve. Our commitment to exceptional service positions them as a dependable partner for all appliance repair in Jacksonville, FL needs, epitomizing professionalism and customer satisfaction.
Our repair service is designed to serve homeowners, renters, and businesses alike, offering reliable solutions for a wide range of appliance issues. From households seeking to restore the functionality of essential appliances to businesses aiming to maintain their operations seamlessly, we cater to diverse needs. Our expert technicians are equipped and EPA certified to address the concerns of individuals and organizations, ensuring that their appliances are swiftly repaired, contributing to improved efficiency and peace of mind. With a customer-centric approach, we are dedicated to serving anyone in need of professional repair services.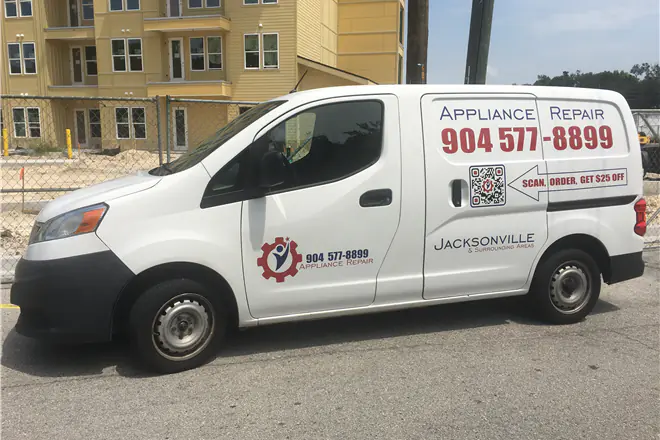 Our service operates through a customer-oriented approach. When a service request is received, our team promptly schedules an appointment at the customer's convenience. Our technicians then conduct thorough diagnostics to identify the root cause of the appliance issue. Once diagnosed, we provide a transparent explanation of the problem and a detailed repair plan, including cost estimates. With the customer's approval, we proceed to efficiently repair, high-quality parts and industry-standard techniques. Our goal is to ensure a hassle-free experience, from initial contact to the successful restoration of the appliance's functionality.
What
equipment

do we repair?
Primarily, our focus lies in repairing larger household appliances that warrant practical and economical restoration.
Presently, our company specializes in a comprehensive range of residential refrigerator repair services in Jacksonville, FL, encompassing tasks such as refills sealed refrigerant systems and addressing issues with ice makers. Moreover, we extend our expertise to the maintenance of both chest and upright freezers, proficiently tackling any required freezer repair to ensure optimal functionality.
We specialize in comprehensive laundry repair services, addressing issues with both washers and dryers. From diagnosing and washing machine repair components to resolving malfunctions and dryer repair, our technicians are committed to restoring these machines to optimal functionality, ensuring efficient laundry routines for our valued clients from Jacksonville and surrounding areas.